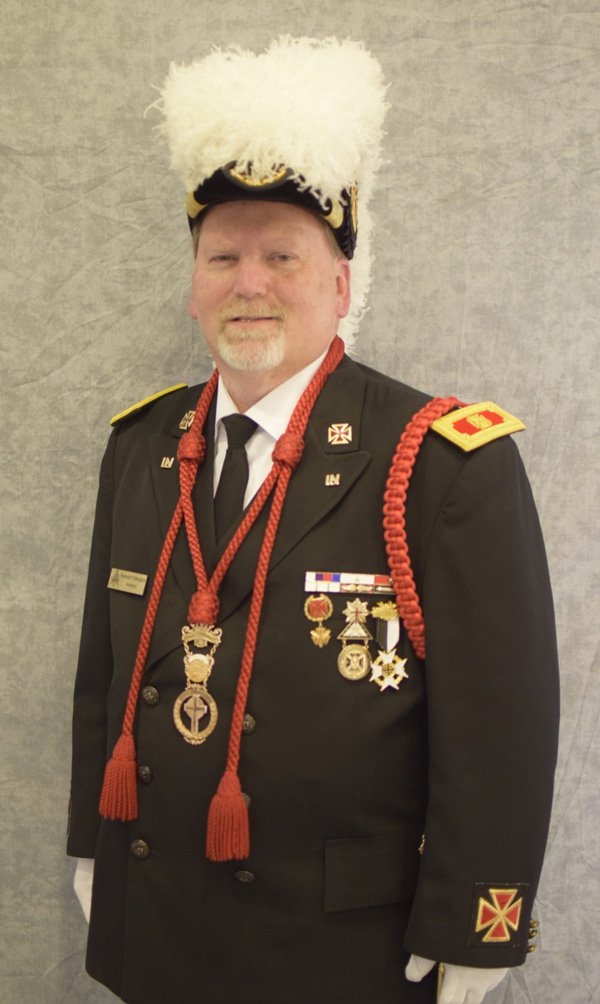 Sir Knight Randal P. Ellington was born into a Masonic Family with his Father Carl being a Member of Cumberland Lodge #726 and his Sister Carla who is a Majority Member of Bethel #67 Job's Daughters and his Brother Roger who is a Senior DeMolay of Cumberland Chapter Order of DeMolay and his Mother Claudine who decided that it was more important that she just wanted to be a Mom and support her family with their Masonic and other endeavors.
When he turned 13, he was presented with a DeMolay petition signed by Brother Phil Herthel and was Initiated into William Hacker Chapter Order of DeMolay in Shelbyville in 1983. He then proceeded up through the ranks and then served as Master Councilor in 1985 for the first time, he had the honor of presenting MWB George R. Tolen with his 50yr DeMolay pin at his installation when he was Most Worshipful Grand Master. He then took a little time off from the Masonic Fraternity and then Farmers Lodge #147 held a public meeting talking about re-forming the David Conger Chapter Order of DeMolay which he attended and met Senior DeMolay Roger S. VanGorden, PGM and several other Brothers, he was then offered a petition to join the lodge where he took his Master Mason Degree in September of 2001. After an attempt to reform the DeMolay Chapter he became involved with the Franklin Chapter Order of DeMolay and has served on the Advisory Council since. Once he joined Farmers Lodge #147 he served in his first office of Senior Deacon in 2002 and became Worshipful Master for the first time in 2005. He has been very fortunate to serve as a twice Past Master, Past Secretary and other Offices and is Farmers Lodge #147's current Senior Deacon and Assistant Secretary. Randal was initiated into York Rite in 2002. He was honored to receive the Grand Commandery's Distinguished Service Award in 2005 and is a Past Presiding Officer of all 3 York Rite Bodies of Shelby County and is currently serving as the Secretary and Recorder of his York Rite. He is a Grand Prelate Emeritus serving Sir Knight Paul A. Cole, PGC as his Grand Prelate and is a member of the Baldwin Commandery #2 Drill Team.

He met his Lady Dee in 2010 and they were married under the Marvin L. Isley Clock Tower at the Indiana Masonic Home on October 23rd 2018. Brother Marvin not only was from his Lodge and York Rite, but he was also a family relative of his wife's and this was great way to start our marriage with Family and Freemasonry going hand in hand.

Sir Knight Ellington is a member of several other masonic organizations Shelby Lodge #28 F & AM, Schofield Lodge 1818 U.D., Naaman Chapter #70 Order of Eastern Star, Shelby Chapter # 20, Royal Arch Masons, Emil L. Steffey Council # 3, Cryptic Masons, Baldwin Commandery #2, Ancient and Accepted Scottish Rite Valley of Indianapolis, Lawrence V. Kaminsky Commandery No. 500, Levant Preceptory, Robert A. Woods Priory # 62 Knight York Cross of Honor, St. Andrew Tabernacle No. XXXV Holy Royal Arch Knight Templar Priest, St. Bartholomew Council # 295 Allied Masonic Degrees, Marvin L. Isley York Rite College # 129, Prather Council #125 Knight Masons, Grand College of Rites of the United States of America, Sahara Grotto, M. O. V. P. E. R., Shelby Co. Past Masters and Wardens Club, Murat Shrine, Oasis of Indianapolis, Shelby County Shrine Club, DeMolay Unit of the Murat Shrine, Franklin Chapter Order of DeMolay Advisory Council, Dad Dale Herthel DeMolay Priory Advisory Council.
Sir Knight Ellington was installed as the Right Eminent Grand Commander of the Grand Commandery Knights Templar of Indiana by fellow Senior DeMolay and Sir Knight Duane L. Vaught Most Eminent Past Grand Master of the Grand Encampment Knights Templar, USA at the 168th Grand Conclave of Knights Templar of the State of Indiana in Indianapolis, Indiana and is honored to serve you and the Grand Commandery Knights Templar of Indiana.