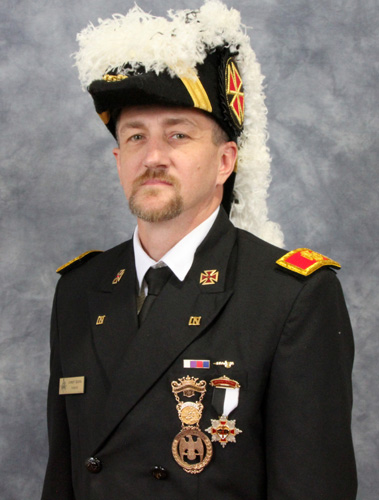 Joe was born June 24, 1977 in Danville, Indiana the son of Otis L. Sparks and Martha L. Sparks.
Joe graduated from Greencastle High School, class of 1996. He later received an Associate of Applied Science in Industrial Technology in 2011 from Ivy Tech Community College.
In 2013 he became an apprentice for Plumbers and Steamfitters Local Union #157 out of Terre Haute, Indiana. He is currently a Journeyman fitter/welder.
Joe married his wife, Tracy, on January 26, 2019 at the Crawfordsville Masonic Temple. They have three children, Nathaniel Sparks, Brenan Hall and Theodore Bunch.
Masonic History
Joe's Masonic history began when he petitioned Alamo Masonic Lodge #144. He received his Entered Apprentice degree on March 26, 2009, his Fellow Craft degree April 30, 2009, and was raised a Master Mason on May 28, 2009. He served as Worshipful Master in 2012 and 2013. He was made an honorary member of Montgomery Lodge #50 July 1, 2019. He petitioned Crawfordsville York Rite and was Exalted a Royal Arch Mason in Crawfordsville Chapter #40 on October 22, 2016. Greeted a Select Master in Montgomery Council #34 on April 2, 2016 and Knighted a Knight Templar in Crawfordsville Commandery #25 on April 2, 2016. He has served as High Priest, Illustrious Master, and Eminent Commander for Crawfordsville York Rite. He now serves as their secretary/recorder. He became a charter member of the Indiana Widows Sons, Outer Guard Chapter of Lafayette, IN on August 2018. He became affiliated with Lawrence V. Kaminsky Commandery of Research on May 28, 2019. He became a member of the York Rite Sovereign College of North America, Banks of the Wabash College #72 on May 18, 2019. He became a member of Ancient Accepted Scottish Rite Valley of Terre Haute on April 27, 2019. He became a member of the Murat Shrine on July 8, 2019 and later a member of the Montgomery Co. Shrine Club. He became a member of Athens O.E.S Chapter #97 of Crawfordsville on July 11, 2019. On November 30, 2019 he became a member of The Order of the Sword of Bunker Hill, Cumberland Road #122. He received the Distinguished Service Award from the Grand Commandery on January 18, 2020. He received the Eminent Commander's Certificate of Merit Award on April 25, 2020.
Joe was appointed to the Grand Commandery line in April, 2019 as Grand Warder by Sir Knight Michael F. Robbins, Right Eminent Grand Commander.